Chili & Pickles:  Grandma was a good cook. In the 1950's it was very unusual to eat fast food like McDonald's.  Let me tell you about some of Grandma's meals and rules at the table.Every meal was served every day. Breakfast, lunch & dinner. I cannot remember a single time that this did not occur. I don't mean just when I was young, I mean I can't remember ever a time when some portion of food wasn't served at the designated time.  Perhaps this doesn't seem unusual to you but to me and how my life style is today (1990's), it was.  Breakfast consisted of hot oatmeal and milk. Sometimes it looked more like mush.  You remember that?   They call it that cause it looks like that.  Three minute eggs in the shell were a favorite of mine. Grandma could do it just right.I've tried to keep some of her recipes alive, but alas, I'm afraid most are gone forever.  One of the better ones, which I never got a recipe for was called a "chocolate eclair".  Grandma's were long and narrow about 2 inches.  Filled with a yellow out of this world vanilla tasting cream, 'drizzled' with home made chocolate syrup. In all of my years I've never had one that compared with Grandma's.
Who doesn't like chili?   When I was young and had this served to me, I remember the chunks of meat so big and tender, I would split a soup cracker in half (they must have been bigger in those days) place a chunk of meat on it and make a kind of tiny little bazaar cracker sandwich.  I didn't get into trouble for this so Grandma must have been more relaxed. A night of comfort food in today's terms.  One glass of coca-cola was also server.. To stretch it out I used to mix it with milk. It made a kind of chocolate drink.   Beans were cooked separate from meat.  Just before serving the two were mixed allowing just the right juices and grease to be added so the chili wasn't to thick or too watery in the bowl.  Another great recipe was served on the same table. Home made pickles.  These 2 recipes exist and I have published them elsewhere in this blog under "food & recipes".  I enhanced this recipe by mixing chili & pickles.  For the life of me I can't remember how this started.  It may have come from Sandy or even Grandma.  I passed this weird combination down to my daughter, Carla, and she too likes it. Over the years, whenever we would go for a visit, Grandma would usually fix chili. It became a tradition. In all those years it was the best meal I ever had. 
In their lifetime Chili Powder and Chili recipe from 1976 as written by Grandma/Grandpa when they were in their late 70's. 
to be easy on your eyes:
1 tablespoons red pepper
3 tablespoons cumin
2 teaspoons garlic salt
2 teaspoons paprika
1/2 teaspoons oregano
1/4 teaspoon cloves
1 tablespoon Mexene Chili powder
Brown (1lb?) meat and cook with suet.  Add some green pepper and remove before serving.  Cook beans with celery and onion but remove before serving.
The following recipe is for making your own chili powder
to be easy on your eyes:
3 tablespoons red pepper
8 tablespoons cumin
4 teaspoons garlic salt
5 teaspoons paprika
1 1/2 teaspoons oregano
1/2 teaspoon cloves
Salt free chili powder
Picture can be enlarged to show detail
Hilmers recipes: 
Alfred M. Hilmers first applied for his trademark patent in 1946 in Springfield Illinois.
He began doing business at 1325 South 11th street - just down the street from grandma & grandpa where I grew up at 2243 South 11th.  This original pamphlet has some nice recipes for Spaghetti Sauce, Bar-B-Q Sauce, Spanish Rice and so on....
The images are high quality and should enlarge easily for reading.  If not, drop me a line and I'll send it to you.
Of course to make these recipes you'll need a substitute for the Hilmers seasoning.  The above home made chili powder could be an excellent start.
The Hilmers Chili recipe and tamale pie are also interesting.  Of course my mother (Norma Jean) made the best tamales and that recipe is a little further down the line.
NEXT UP:  Home made dill pickles.
We have made this recipe many times.  The smaller the cucumbers the better.  One type, called Kirby, seems to provide the right size.  However no matter how we prepare, sometimes they turn out with a 'crunch' and sometimes they are mushy.  Don't expect to save money!  Making anything for yourself is not about saving money.  It's about knowing the ingredients, the freshness, and taste using no chemical preservatives.
They do not need refrigeration and have kept on the shelf up to three years.
Some hints: Use the freshest cucumbers you can find.  Keep cool or cold until ready to use.  We have adapted the recipe to just pickle GARLIC.  It tastes excellent (if you like that sort of thing).  Also we do fresh, sliced jalapeños.   For red peppers we use fresh, slim, long or short cayenne.
Do not reuse lids or rings. Hamburger slices also work just fine. 
Everything must be sterile.  Boil lids and rings in water.  Use tongs to pickup.  Wash jars in dish washer just prior to use.  Do not touch tops of jar with fingers!  Use plastic gloves if you have to. 
Benefits:  You do not need a pressure cooker for canning.  When properly sealed, no  refrigeration necessary until opened.
             DILL PICKLES  (GRANDMA BLASE)
             ------------
PUT WHOLE PICKLES IN FRUIT JAR WITH WHOLE HEAD OF FRESH DILL (1TSP PER QT)
AND GARLIC AND RED PEPPER (1-2 CLOVES & 1/2 PEPPER) OR TO YOUR TASTE
BOIL 1 QT WHITE VINEGAR, 3 QTS WATER & 1 CUP UNIODIZED SALT
   (6QT)
POUR OVER PICKLES DO NOT SEAL. LET COOL (5-8 HOURS) THEN POUR OFF INTO
A PAN & BRING TO A BOIL (ADD 1/2C EXTRA BRIN)
POUR BOILING LIQUID OVER PICKLES AGAIN & SEAL.
LET SIT MINIMUM 5 WEEKS- BETTER IF 6 WEEKS.
IF SEAL BREAKS ENTIRE PROCESS MUST BE STARTED OVER.
USE QUALITY SEALS.
If desired: (OHIO PICKLING SEED)       2 TSP PICKLING SPICES
Baked Beans: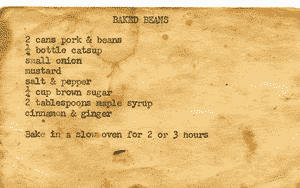 Hot Dog relish:
Please reload